At a Glance
Description
Listen to African American Blues from the Fort Valley Music Festivals of 1938-1943.
Producer
American Memory, Library of Congress
Now What a Time : Blues, Gospel, and the Fort Valley Music Festivals, 1938-1943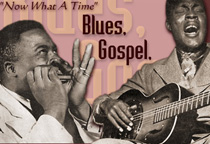 A collection of 104 sound recordings from annual folk festivals held at Fort Valley State College (now Fort Valley State University), an African-American teaching college in central Georgia. Also provides 63 items of written documentation about the festival and the recording project, including recording logs, program notes, a student newsletter about the festival, and correspondence between the festival's co-founders, educators John Wesley Work III, Lewis Wade Jones, and Willis Laurence James, and noted folklorists Benjamin A. Bodkin and Alan Lomax, who represented the Library of Congress's Archive of American Folk Song. Includes biographies of approximately 500 words each on Work, Jones, and James; a 6,000-word "Special Presentation" entitled "Noncommercial Recordings" by Bruce Bastin, excerpted from his book Red River Blues; and a 30-title bibliography. The collection is searchable by performer, title, and keyword, but lyrics are not available, which makes this collection difficult to use, since the performers speak and sing in thick dialects, made even more opaque by Web delivery. The collection is an extraordinary record of non-commercial American music and musical styles, of particular use to music specialists, but also of interest to those studying broader cultural trends. For example, 16 recordings reflect wartime opinions and concerns.