At a Glance
Description
Your first resource for photographs and images depicting African Americans during the 19th century.
Producer
Schomburg Center for Research in Black Culture, New York Public Library
Images of African Americans from the 19th Century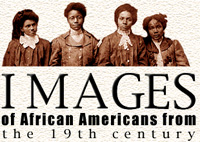 Part of the Digital Schomburg/New York Public Library project, this site contains roughly 500 images selected primarily from the Photographs and Prints Division of the Schomburg Center for Research in Black Culture at the New York Public Library. The items, selected by Marilyn Nance, freelance photographer, and Mary Yearwood, Curator of Photographs and Prints, include prints, original negatives, and transparencies from the 19th century, drawn from collections of family photographs, African-American school photographs, and personal collections. The images in this archive depict the social, political, and cultural worlds of their African American subjects. The site can be searched through 17 subject categories, such as family, labor, Civil War, slavery, social life and customs, and portraits. Under each subject category is a list of images with 15-word descriptions. This easily-navigable site also offers a keyword search engine through which collection items can be accessed. The images download quickly and are of good quality. Ideal for researching African American and 19th century history.