At a Glance
Description
Exploring the material culture of Native Americans in North and South America? Search this museum's online collections for artifacts!
Website
Penn Museum Online Collections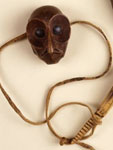 Representing the collections of the University of Pennsylvania Museum of Archaeology and Anthropology, this archive features records for more than 660,000 artifacts, ranging from sources worldwide.
Visitors may browse objects by featured collection or theme (themes include California/Nevada baskets, animals, faces, feathers, hair and makeup, and more) or by collection highlights (featuring notable artifacts divided into sections by geography). Under "Highlights by Section," visitors may also choose "Physical Anthropology" to explore the museum's collection of human and primate remains. A downloadable PDF (30 pages) introduces this section. (Note: access to the searchable database for the physical anthropology collection was not available at the time of this review.)
Visitors may search the collections by keyword, object name/description, museum object number, period, place name, culture, maker, donor, and material/technique. Individual object records may include culture, country of origin, date created, media and techniques used, a two- to three-sentence description, and enlargeable images (if available).
Click "Add to My Finds" on an object's record page to add an object to a customizable list of bookmarked items, accessed by clicking the "My Finds" tab at the top right of the page. Collections of "finds" may be rearranged by dragging and dropping; click "Save/Share My Finds" to store a collection at a unique URL that may be revisited later and shared with others.
This is a useful site for exploring material culture. U.S. history teachers will find the Native American artifacts recovered on archaeological and ethnographic collecting expeditions particularly relevant. The lack of substantial annotations may make some artifacts difficult to contextualize. (Note that the museum specifically allows teachers to use images from the collection in their classrooms or on nonprofit educational websites.)