At a Glance
Description
Delve into photographic evidence of the damage caused by the 1889 Great Seattle Fire.
Website
Producer
University of Washington Libraries Digital Collections
The Great Seattle Fire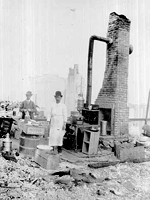 This website offers 150 photographs documenting the aftermath of the "Great Seattle Fire" that occurred on June 6, 1889. The collection is introduced by a short essay relating the main events of the fire along with statistics on the estimated damage it caused to the city. Each photograph is accompanied by a short description and full bibliographic data including date of the photograph, the photographer (if known), and a subject cross-reference list. Visitors can browse through all 150 photographs, search by keyword, or use the advanced search feature to search for title, subject, description, creator, publisher, contributors, date, type, format, or source. The site also offers links to five other related collections of photographs of Seattle and Washington State in the mid-to-late 19th century and the first half of the 20th century. Besides those specifically interested in the Great Fire, this collection of photos is a useful resource for persons researching the history of the urban West in the 19th century or the history of Seattle.