At a Glance
Description
Discover the depth of Austin, Texas's urban history through 10 online exhibits containing images and essays.
Producer
Austin History Center, Austin Public Library
Austin Treasures: Online Exhibits from the Austin History Center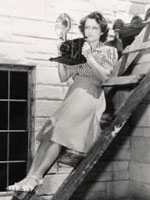 A collection of 10 exhibits documenting aspects of the local history of Austin, TX. Each exhibit contains approximately 40 images and essays from 1,000 to 3,000 words in length. Topics include working in the city, the suffrage movement, life in the city during World War II, Victorian houses, city streets, the erection of the state capital building, landscaping, the historic suburban Hyde Park area, and memorable "firsts" in Austin.
The site links to the main local history site for the Austin Public Library—the Austin History Center—which provides a 2,400-word student essay on Austin's growth during its first 100 years, a chronology of the city from 1830–1900, and links to other relevant sites, including one presenting hundreds of historic postcards of the city. Useful for those studying Texas, urban, and western history.