At a Glance
Description
Witness the birth of motion photography, as it created the foundation for the growth of the film industry and Hollywood.
Producer
Smithsonian Institution: The National Museum of American History's Virtual Exhibitions
Freeze Frame: Eadweard Muybridge's Photography of Motion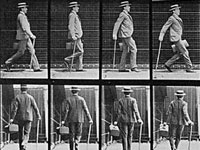 This companion site to a National Museum of American History exhibit explores the most famous work of English photographer Eadweard Muybridge. Muybridge's photographic studies of motion have been interpreted as scientific models, but the proofs included in the five exhibit sections suggest a more complex blending of art and science. "Capturing the Moment" tells the story of the commission by California Governor Leland Stanford to study the hooves on a galloping horse and Muybridge's resulting fame. "Muybridge in Motion" traces the University of Pennsylvania study of animal and human locomotion. "From Proof to Print" outlines the process and artistic nature of motion photography. "Sequences and Structures" describes the scientific principles of motion and sequential structure. "Epilogue" discusses Muybridge's influence on late-19th century visual culture and invites visitor comments.
Each section offers a 750-word introductory essay and 10-12 images illustrating the scientific and artistic elements in Muybridge's work. The site also offers five links to related sites and a five-work bibliography. A disclaimer notifies parents and teachers that many subjects were photographed nude or semi-nude. This is an interesting site for those researching the place of photography in American science and culture.