At a Glance
Description
Do you think armed resistance is a justifiable reaction to racism? Explore Rob William's motives.
Producer
Independent Lens and PBS
Negroes With Guns: Rob Williams and Black Power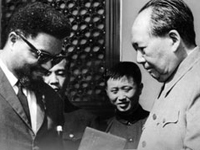 This website is a companion to the PBS show on Rob Williams and the Black Power movement. Rob Williams was "the first African American civil rights leader to advocate armed resistance to racial oppression and violence." His radio program for blacks in the South "Radio Free Dixie," broadcast from exile in Cuba, "included cutting-edge music by African American artists, news from the front lines of the black freedom movement and fiery editorials by Rob Williams that railed against 'rump-licking Uncle Toms' and 'Ku Klux Klan savages.'"
The site offers a description of the film along with the film trailer. It also includes a short biography of Rob Williams with several images, as well as background information on "Radio Free Dixie" with ten audio clips including four excerpts from the show and six music clips. "Learn more" includes links to 12 related websites and six books on Black Power, Radio Free Dixie, Rob Williams, and black revolutionaries. A good starting point for research on Williams and his role in the Black Power movement.