At a Glance
Description
Houses more than 1.2 million items on Virginia and life in the South.
Website
Producer
Library of Virginia
Library of Virginia Digital Library Program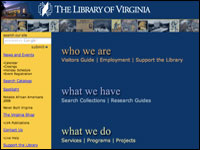 More than 1.2 million items on Virginia and life in the South are available on this website, including 40,000 photographs and maps, 350,000 court documents, and 800,000 manuscripts. Manuscripts include governors' letters, land office grants, Revolutionary War bounty land warrants, Confederate pensions, and disability applications. Several complete collections are available, as well as 25 exhibits on Virginia history.
Users can find photographs that document buildings and people; patents and grants submitted to the Virginia Land Office between 1623 and 1992; Northern Neck Grants and Survey forms filed between 1692 and 1892; military records, including Revolutionary War state pensions material and World War I History Commission Questionnaires; WPA Life Histories; and Virginia Religious Petitions from 1774 to 1802. Exhibits deal with topics including the legacy of the New Deal in Virginia; resistance to slavery; Virginia roots music (with seven audio selections); Thomas Jefferson; John Marshall; Virginia's coal towns; and political life in the state.