At a Glance
Description
What songs were on the "Top 20" in the 1850s? Was it as much of a social concern as it is nowadays to stay musically trendy?
Website
Producer
UCLA Digital Library
Popular American Music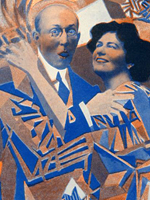 This archive of American popular songs in their original form allows the user to explore the history of popular music in the U.S. from the 1850s to the present. It offers more than 400,000 pieces of sheet music, anthologies, and orchestra and band arrangements. Also available are 62,500 recordings.
The collection includes a wide variety of music genres, from music for theater, television, and motion pictures to rhythm and blues and rock. The collection can be browsed by name, title, cover art subject, or date. Or search the archive by keyword or combination of keyword, title, description, composer, or publisher. There are 12 links to other digital sheet music collections. Those researching American popular music should find this extensive collection very useful.