At a Glance
Description
Explore the Irish Famine of 1846 through the eyes of Irish and English newspapers.
Website
Producer
Steve Taylor, Manager of Instructional Media Services, Vassar College
Views of the Famine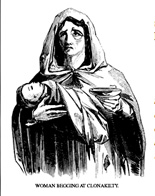 Images and articles on the famine in Ireland between 1845 and 1851, including some pre-famine material on related events. Taken primarily from newspapers in London and Ireland, the site includes 74 images and 16 articles from the Illustrated London News; short reports and articles from the Cork Examiner, September 1846 to December 1847; 17 illustrations and two articles from the Pictorial Times of 1846 and 1847; 30 cartoons and four articles from London's Punch; and the contents of an 1847 pamphlet, Narrative of a Journey from Oxford to Skibbereen during the Year of the Irish Famine by Lord Dufferin and G. G. Boyle.
Provides a master picture list of 99 illustrations and cartoons from the materials, arranged by depicted subjects such as cabins, landlords and ejections, begging, food riots and attacks, relief, workhouse, funerals, voyage, and life in America. Also presents a list of 44 links to related resources. Although the site lacks contextual material, other than sentence-long biographical data on some of the cartoonists, it offers visitors visual and textual material that was available to contemporary Irish and English readers of popular print forms to make sense of the Famine.