At a Glance
Description
Explore Toledo, Ohio's entertainment, technological, business, and political history.
Producer
Lucas County, Maumee Valley Historical Society
Toledo's Attic: A Virtual Museum of Toledo, Ohio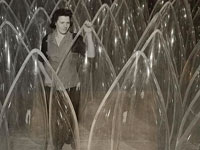 This virtual museum contains resources focused on Toledo and Northwest Ohio's history from the late 19th through the late 20th centuries. The site is broken into seven content areas—Tour Toledo, Essays, New Media, Exhibits, Resources, Social Media, and Links—each of which contain photographs and other sources. In the "Tour Toledo" section, visitors have the option to virtually explore the city by investigating historic sites such as churches or hotels, or past structures that once dotted the city's landscape. The section also contains a timeline tracing Toledo's role in American history from 1801 to 1984.
In the "Essays" section, browse more than 35 historical essays, which focus on topics ranging from architecture to labor history. The majority of these essays include primary sources and images, which could be used in the classroom.
The "New Media" and "Exhibit" sections offer a more hands-on presentation of Toledo history. In the "New Media" section, visitors can explore more than 70 interactive media exhibits, from slideshows to flash presentations, on a number of topics. The "Exhibits" section currently offers four virtual tours of exhibitions on industry, medicine, steelworks, and glass production.
"Resources," "Links," and "Social Media" all contain lists of other resources relating to Ohio history. Be sure to peruse the first two sections for links to dozens of local libraries, archives, and historical societies and their digital collections. The "Social Media" section provides a gateway to more than 10 social networking sites specific to either Toledo or Ohio state history.
Overall, Toledo's Attic is a gold mine for the history of this Ohio city.