At a Glance
Description
View color photographs of everyday life during the Great Depression and pre-World War II mobilization.
Producer
Library of Congress
Bound for Glory: America in Color, 1939-1943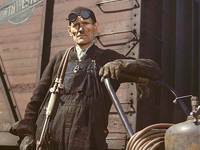 This exhibition offers 70 color pictures taken by photographers of the Farm Security Administration/Office of War Information (FSA/OWI) between 1939 and 1943. This collection "reveals a surprisingly vibrant world that has typically been viewed only through black-and-white images. These vivid scenes and portraits capture the effects of the Depression on America's rural and small town populations, the nation's subsequent economic recovery and industrial growth, and the country's great mobilization for World War II." The collection features the work of famed photographers John Vachon, Jack Delano, Russell Lee, and Marion Post Wolcott.
All pictures in the exhibition can be viewed in large format by clicking on the image or the title in the exhibition gallery. The collection is searchable by keyword. The complete collection of FSA/OWI photographs—171,000 black-and-white images and 1,602 color images—is available on the Library of Congress website at http://memory.loc.gov/ammem/fsowhome.html. This collection is of interest to both those studying the history of American photography and those seeking images of New Deal-era America.