At a Glance
Description
Compare perspectives on educational desegregation. How did it affect the community?
Website
Producer
Massachusetts Studies Project
African Americans in Massachusetts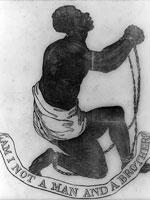 This site features primary documents related to the 19th-century desegregation of the Boston and Nantucket, MA school systems. It includes a timeline with links to 71 expandable and downloadable primary sources. The documents consist of census records, maps, reports of the local school committees, and articles from William Lloyd Garrison's Liberator. The site also contains a bibliography with more than 30 items. Designed to develop student critical thinking skills, materials encourage middle and high students to understand different points of view. For example, students can study petitions from those supporting desegregation and petitions from those in opposition. In addition students will better understand the relationship between Massachusetts' early desegregation cases and the 20th-century Plessy v. Ferguson decision.
Complete with primary sources and lesson plans, the site not only offers useful curriculum for lessons in America's long march to free and integrated public education but helps students identify how contemporary debates about education parallel the 19th-century Massachusetts desegregation cases.