At a Glance
Description
Listen to more than 12 hours of oral interviews taken in the first three months after the attack on Pearl Harbor.
Producer
American Memory, Library of Congress
After the Day of Infamy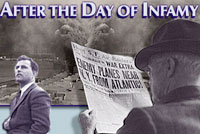 More than 12 hours of audio interviews conducted in the days following the December 7, 1941, attack on Pearl Harbor and in January and February, 1942, are included on this site. Interviews include the voices of 200 "ordinary Americans" recorded in 10 places across the U.S.
December recordings were made by fieldworkers contacted by the Library of Congress Radio Research Project to gather opinions of a diverse group of citizens regarding American entrance into war. In the 1942 recordings, produced by the Office of Emergency Management, interviewees were instructed to speak their minds directly to the President. Interviewees discuss domestic issues, including racism and labor activism, in addition to the war. Related written documents and biographies of the fieldworkers are also presented. The interviews are available in audio files and text transcriptions, and are searchable by keyword, subject, and location.