At a Glance
Description
Do you remember when everyone got chickenpox as a kid? Your students might not! Learn about how vaccination has changed lives.
Website
Producer
The College of Physicians of Philadelphia
The History of Vaccines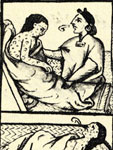 This website explores the vaccination process from 900 CE to the present day. Tracing humanity's earliest known observations about disease transmission and immunity up to modern vaccination programs, the website includes articles, primary sources, and interactive activities.
Most attractive to educators will be the "Gallery" section. Browse more than 550 primary sources related to disease and vaccination, including pamphlets, photographs, artifacts, and more, as well as 90 videos. For easier browsing, filter the sources by topic, media type, or time period.
History teachers will also appreciate the "Activities" section. Seven interactive diagrams illustrate scientific and historical concepts, including herd immunity, how vaccinations work and how they are made, and changes in required vaccines over time. "Pioneer Breakthroughs," an interactive quiz, tests players' knowledge of vaccine-related discoveries, and "The Scientific Method" walks players through the steps in identifying the source of a disease outbreak and containing it. "Illsville," an online game, challenges players to keep the population of a town healthy from 1600 through the present day.
The site also includes an interactive timeline featuring images and short synopses of events from 900 CE to the present. View all of the events, or filter them by topic.
A database of essays in "Articles" covers more than 50 topics in the categories "Vaccine Science," "History and Society," "Vaccine Information," "Vaccine-preventable Diseases," and "Common Questions."
Note the four lesson plans in the "Educators" section. Spanish-language versions of site content are available as well.