At a Glance
Description
Few engineering feats are so overlooked by history as the creation of sewers worldwide.
Website
Producer
Jon Schladweiler
The History of Sanitary Sewers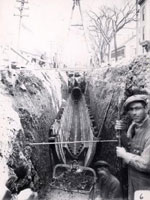 Documenting more than 5,000 years of sewage history, this site contains a plethora of sources addressing the historical, cultural, engineering, and even literary aspects of sewers. Beginning in roughly 3,500 BCE and continuing into the 20th century, the site includes a detailed timeline of major sewage developments, as well as links to histories of 14 major cities' sewage systems, including Washington, DC and Los Angeles.
In addition to two histories of the modern toilet, there are more than two dozen articles about aspects of sewage design, including short (500–1,000 word) introductions, engineering text, and even PDF diagrams. As well, there is a feature highlighting the many animals found living in metropolitan sewers and a virtual tour of the Paris, France, sewer system. A bibliography introduces users and researchers to major secondary works on sewage and sewer history. A Miscellaneous area collects literary references to sewers, including works by Robert Frost and Ben Jonson.