At a Glance
Description
Explore American propaganda and advertising during the second world war.
Producer
National Archives and Records Administration
Powers of Persuasion: Poster Art from World War II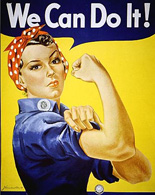 Created for a 1994 exhibit, this site examines poster art as a method of persuasion during World War II. Featuring 33 posters and one audio clip--the song "Any Bonds Today?"--the materials are divided into two sections. The first, which focuses on themes of "patriotism, confidence, and a patriotic outlook," is arranged into five subsections: "Man the Guns!"; "It's a Woman's War Too!"; "United We Win"; "Use it Up, Wear it Out, Make it Do, Or Do Without"; and "Four Freedoms." The second section, also arranged into five subsections, presents posters that attempted to foster "feelings of suspicion, fear, and even hate," a distinctly different strategy of propaganda. The materials are contextualized by background essays of 100-400 words in length. Although limited with regard to number of items, the site will be valuable for those studying wartime depictions of gender and race, and the power of images to further national goals.