At a Glance
Description
Explore the infamous Scottboro case through a variety of primary source documents and images.
Producer
Douglas Linder, Professor, University of Missouri-Kansas City, School of Law
Famous American Trials: "The Scottsboro Boys" Trials 1931-1937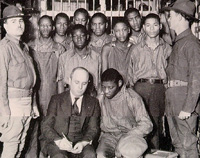 Part of the "Famous Trials" site created by Law Professor Douglas O. Linder, this collection provides documents, photographs, essays, and information about the controversial trials of nine African American youths for allegedly raping two white women on a train in the Depression South. Contemporary materials include 20 excerpts from the trials; 22 contemporary news articles; 10 appellate court decisions; eight letters; 28 photographs; 16 quotes from participants and others commenting on the trials; a political cartoon; and a postcard.
Also offers two essays by Linder of 6,000 and 18,000 words each; 20 biographies ranging from 100 to 1,000 words each on participants in the trials, political figures, and historians who have chronicled it; and a bibliography of 30 entries, including five links to related sites. Of value to those studying American race and gender history, the South, legal history, and Depression America.