At a Glance
Description
View photographs of a variety of urban landscapes.
Website
Producer
The Digital Scriptorium, Rare Book, Manuscript, and Special Collections Library, Duke University
The Urban Landscape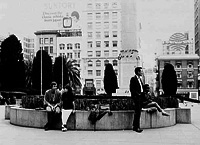 A searchable database of approximately 1,000 historical images from 14 collections at Duke University, focusing mainly on cities and towns in the American South from the late 19th century to the 1980s. Includes 41 aerial views taken by the U.S. Army Signal Corps in 1918 of towns in Florida, Georgia, Alabama, and South Carolina; 150 picture postcards of southern towns from the turn of the century to the 1960s; 22 photos of the 1886 earthquake in Charlotte, SC; 32 photographs taken in Savannah, GA around the turn of the century; 28 taken in Cheraw, SC, in the early 20th century; 112 shot in Durham, NC, from the turn of the century up to 1950; and 66 photos, taken mostly in Durham, for 18 Duke University undergraduate documentary photography projects created between 1979 and 1985. The site also includes a series of 97 photographs taken in Salem, MA, in the 1890s; 31 images from the Philippine Islands and other Far East locations taken between 1899 and 1902; and four series of 218 photographs by documentarist William Gedney taken in New York, San Francisco, and Benares, India. Especially of value for students of urban architecture and for those interested in images of southern street life.