At a Glance
Description
Explore the subject of psychology through this full-text archive of classic works in the field.
Website
Producer
Christopher D. Green, York University
Classics in the History of Psychology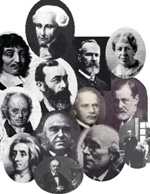 This site contains a full-text archive of classic works (13 books and more than 65 articles and chapters) in the field of psychology sorted by topic and author, as well as links to over 120 other online documents related to the history of psychology. Some selections, including those from Freud, Watson, Koffka, Binet, and Terman, are introduced by original articles and commentaries, "written by some of the leading historians of psychology in North America." The site also offers primary source reading guides for history of psychology courses.