At a Glance
Description
Contains 10,000 pages and images on Everglades reclamation efforts and the history of south Florida.
Producer
American Memory, Library of Congress; University of Miami; Florida International University; and Historical Museum of Southern Florida
Reclaiming the Everglades: South Florida's Natural History, 1884-1934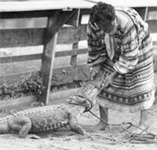 This archive contains primary and secondary sources relating to reclamation efforts of the Everglades and the history of south Florida from 1884 to 1934. Comprising nearly 10,000 pages and images, the compilation includes personal correspondence; government publications, reports, and memos; and images, such as photographs, maps, and postcards. Materials document issues relating to the creation of national parks, including conflicting interests—public, private individual, and corporate—and government accountability.
The website also presents a photo exhibit, "The Everglades: Exploitation and Conservation," accompanied by a 1,000-word essay. Two additional features, an interactive timeline and 31 biographies of South Florida's most notable personalities, complete this project. This site will be of interest for those exploring the establishment of the Everglades National Park, the conservation movement, and the treatment of Native Americans, particularly the Seminoles.