At a Glance
Description
Explore the thoughts of Samuel F. Morse, artist and father of the electromagnetic telegraph.
Producer
American Memory, Library of Congress
Samuel F. B. Morse Papers, 1793-1919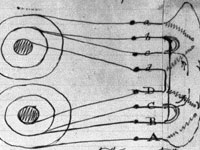 Offers approximately 50,000 images of 6,500 items from the papers of 19th-century American scientist and painter Samuel F. B. Morse (1791–1872), inventor of the electromagnetic telegraph. In addition to science and art-related papers, the materials in the collection document Morse's interest in photography and religion, as well as his involvement with the American nativist movement. Includes correspondence, diaries, notebooks, scrapbooks, newspaper clippings, books, pamphlets, broadsides, maps, drawings, and other materials, primarily produced during between 1807 and 1872.
The site provides a timeline supplemented with 15 documents; a family tree; two essays of approximately 1,000 words each (entitled "The Invention of the Telegraph" and "The Lesser-Known Morse: Artist, Politician, Photographer"); a bibliography of 22 titles; and links to 16 additional sites.
Searching capabilities leave much to be desired. Keyword searching applies only to titles assigned to documents by the Library of Congress. Thus even though the finding aid lists "Nativism" as a subject, a keyword search turns up nothing. The site unfortunately is of limited use because of this shortcoming.