At a Glance
Description
Can't travel to Monticello? Take your students on a virtual tour of Jefferson's estate with this website.
Website
Monticello Explorer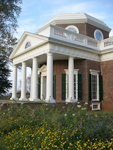 President Thomas Jefferson worked on designing his estate, Monticello, throughout much of his adult life, drawing heavily on classical architecture as well as the French architecture he became acquainted with during his time in Paris in the 1780s. This website presents an interactive map of Monticello, at its height a 5,000 acre plantation—its buildings, fields, orchards, and slave quarters—providing a window into Jefferson's domestic life.
Visitors can click on one of more than 25 locations on the Plantation, and see a short explanation of that place's function, as well as a small selection of current and historical photographs and documents pertaining to that location, including some of Jefferson's original building plans. Visitors can then virtually move inside Monticello itself through a 3-D tour of Jefferson's home, accompanied by text highlighting the social function of each room.
Also offered are virtual tours of the house, highlighting domestic life at Monticello and Jefferson's relationship with farming and gardening. Each of these tours is accompanied by a useful video introducing these topics and providing other background information about Jefferson's life and work.