At a Glance
Description
Attention Washington State educators! Looking for primary sources? With more than 84.5 million documents, this archive has what you need.
Producer
Washington State
Washington State Digital Archives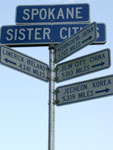 This massive archive contains more than 84.5 million documents, more than 26 million of which are fully keyword searchable, from Washington State and local agencies. These documents include contracts, birth, marriage, military, naturalization, death, cemetery, and census records, land records and surveys, oaths of office, maps, photographs, power of attorney records, and date from the late 19th century to the present.
A detailed list of collections is available through the Collections section. Here, users will find detailed information on all record collections, including dates and counties available, and options to search by county or within sub-collections.
The casual user may want to begin with several browsable featured collections, which contain photographs from the Spokane city planning department, audio recordings of the Washington House of Representatives Committee Meetings, and 200 photographs of daily life in the Big Bend region of the Columbia Basin.
Useful for teachers and historical researchers interested in many aspects of life in the West, and those interested in genealogy with connections to Washington State.