At a Glance
Description
Browse educational videos, lesson plans, and primary sources detailing the importance of 1619 in Virginia and American history. 
Producer
2019 Commemoration
AMERICAN REVOLUTION 2019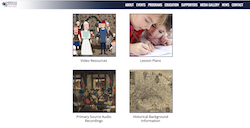 AMERICAN REVOLUTION 2019 features educational resources which bring awareness to Virginia's role in the formation of the United States and commemorate the year 1619 in Virginia and American history. On the site you'll find a list of resources - videos, lessons, primary source documents - which provide straightforward material for engaging with history and historical documents. These resources all highlight and build upon the same common themes. The site's 8 educational videos, "Guardians of Jamestown: 1619," follow the story of a young girl visiting Historic Jamestown as she learns of artifacts from 1619. These videos connect the daily life of students with the traditions and history that originated in Virginia, such as the first Thanksgiving. Ten lesson plans, written for elementary and secondary education students, detail topics such as colonial life, tobacco, the legend of Pocahontas, and right and slavery in Virginia. These lesson plans incorporate primary source documents for students to engage with historical content, highlight core standard skills practiced in the lesson, and include questions for students and ways to extend the activity. These lessons are step-by-step guides for educators with easily identifiable materials needed for the lesson and hyperlinked content for quick, online access.
Students can further engage with primary source documents by listening to dramatic readings on topics such as runaway slave ads from the 1730s and the John Punch Court Decision of 1640. Navigating to the historical background section will provide students the opportunity to learn facts, figures, and stories about women in early Virginia, Thanksgiving in 1619, and Virginia's leadership in entrepreneurialism and economic innovation. Each educational resource section provides an overlapping learning channel for students to build upon themes explored across the site.
You can also browse outreach and community programs, presentations, and media onsite which could be implemented as supplementary educational material.