At a Glance
Description
This site offers a cornucopia of documents spanning four centuries of American history.
Website
Readex Digital Collections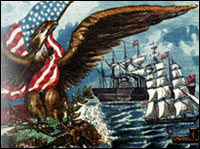 Hundreds of thousands of documents spanning four centuries of American history are available in this large archive. Broadsides, ephemera, pamphlets, and booklets are available from 1639 to 1900. More than 1,300 newspaper titles, representing all 50 states, range in date from 1690 to 1922. U.S. Senate and House of Representatives reports, journals, and other documents are available from 1817 to 1980. Legislative and executive documents from the Early Republic are also included. The entire body of documents is keyword searchable, and, in addition, each collection can be searched and browsed individually. These documents shed light on many aspects of American social, political, economic, and cultural history, and can provide a valuable window into the daily lives of early Atlantic peoples. The collection of broadsides and ephemera is especially useful for exploring the history of printing in the United States, as all titles can be browsed by bookseller, printer, or publisher.