At a Glance
Description
Read the memoirs and letters of three 19th-century African American women on this website.
Website
Producer
The Digital Scriptorium, Rare Book, Manuscript, and Special Collections Library, Duke University
African American Women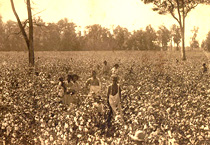 Writings of three African American women of the 19th century are offered in this site. Features scanned images and transcriptions of an 85-page memoir by Elizabeth Johnson Harris (1867-1923), a Georgia woman whose parents had been slaves, along with 13 attached pages of newspaper clippings containing short prose writings and poems by Harris; a 565-word letter written in 1857 by a North Carolinia slave named Vilet Lester; and four letters written between 1837 and 1838 by Hannah Valentine and Lethe Jackson, slaves on an Abingdon, VA, plantation.
The documents are accompanied by three background essays ranging in length from 300 to 800 words, six photographs, a bibliography of seven titles on American slave women, and eight links to additional resources. Though modest in size, this site contains documents of value for their insights into the lives of women living under slavery and during its aftermath in the South.