At a Glance
Description
Relive media coverage of the famous Lindbergh Trial through this Hunterdon County Democrat database.
Producer
<em>Hunterdon County Democrat</em>
The Lindbergh Case: The Trial of the Century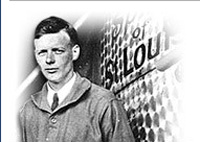 Created by a weekly newspaper based in Flemington, New Jersey, this site is devoted the 1932 kidnapping of the Lindbergh baby and the subsequent trial of a 35-year-old Bronx carpenter named Bruno Richard Hauptmann. Among the few primary materials included are approximately 35 photographs related to the trial and six episodes from a 1934-35 comic strip about the crime. The site offers a summary of events and biographies of the leading characters, theories about Hauptmann's innocence, a timeline, nine recent articles from the newspaper on the case and about several "Lindbergh baby claimants." Of limited value due to the site's reliance on only one newspaper for most of its documentation.
The "Inside Lindbergh Trial" menu is defunct. Use the links located throughout the page.