At a Glance
Description
Commemorates the 1871 Great Chicago Fire with an array of primary sources.
Producer
Chicago Historical Society and Northwestern University
Great Chicago Fire and the Web of Memory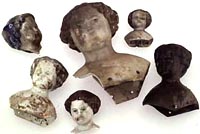 This exhibit commemorates the 125th anniversary of the Great Chicago Fire (1871) with an array of primary sources arranged into two sections. "The Great Chicago Fire" examines the fire through five chronological chapters, while a second section, "The Web of Memory," focuses on the ways in which the fire has been remembered. This section presents the story through eyewitness accounts, popular illustrations, journal articles, fiction, poetry, and painting. It also examines the legend of Mrs. O'Leary.
The site furnishes galleries of images and artifacts, primary texts, songs, a newsreel, an "Interactive Panorama of Chicago, 1858," and background essays that explore the social and cultural context of the fire and its aftermath.