At a Glance
Description
What were common presidential campaign strategies between 1840 and 1860?
Producer
Northern Illinois University Libraries
Getting the Message Out! National Political Campaign Materials, 1840-1860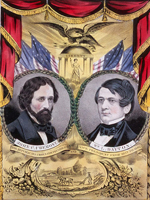 After property qualifications for voting were eliminated in the 1830s, the American electorate expanded from 1.5 million to 2.4 million. As abolition, the extension of slavery, the Mexican War, and the Dred Scott decision dominated the national debate, songs, parades, and barbecues became increasingly important campaign tools to reach out to new voters. This type of political material culture is highlighted through this website, presenting 1,200 documents, more than 650 images, 100 songs, and interactive country-wide Presidential election maps for all six Presidential elections between 1840 and 1860. Detailed contextual information is available on a wide range of subjects, such as political campaigns, political parties, and major national events. Five short videos by well-known scholars address political culture, the second party system, politics as popular entertainment, and women's roles in antebellum politics. The detailed lesson plan in the "Teacher's Podium" challenges students to assess changing campaign strategies through song lyrics.