At a Glance
Description
Listen to jazz from the '20s and '40s while learning about music greats and hot spots.
Producer
Miller Nichols Library, University of Missouri, Kansas City
Club Kaycee, Golden Age of Kansas City Jazz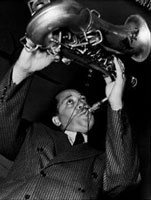 These 43 audio files present Kansas City jazz recordings that span the years 1906–1954. Most were recorded during the city's "Golden Age"—from the late 1920s to the early 1940s. Provides 100- to 500-word profiles on 28 jazz artists including Count Basie, Charlie Parker, Lester Young, Big Joe Turner, Benny Moten, and Andy Kirk.
Also includes a 1,700-word article on the 18th and Vine district, "internationally recognized as one of the cradles of jazz"; a 1,500-word article on the first Kansas City jazz band to become known nationwide in the 1920s, the Coon-Sanders Original Nighthawks Orchestra; shorter essays on Kansas City clubs and nightspots; a 26-title annotated bibliography; and a 45-title discography. Small photos of people and places accompany some of the essays. A good introduction to this important center of jazz creation that will be of interest not only to jazz aficionados, but to those studying 20th-century urban and cultural history.