At a Glance
Description
Find a wide variety of classroom resources focused on social history, from classroom activities to primary sources.
Producer
American Social History Project, Center for Media and Learning
HERB: Social History for Every Classroom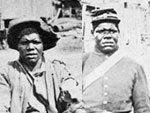 HERB consists of three TAH projects, History for All, History Matters, and Our American Democracy, as well as a wide variety of non-TAH collections, primarily related to social history. If you're wondering where the name came from, HERB's namesake is Herbert Gutman, a labor historian and co-founder of the American Social History Project/Center for Media and Learning at The Graduate Center, City University of New York, which has been involved with K-12 education since 1989.
On HERB, you can keyword search for resources such as prints, posters, advertisements, and other artworks; oral history transcripts; statistics; documentary-viewing guides; timelines; activities; worksheets; explanation by historians; letters; songs; and more. From the main page, you can also browse by selecting your time period of interest or a major theme—immigration and migration, civil rights and citizenship, slavery and abolition, work, reading supports, expansion and imperialism, gender and sexuality, Civil War, or social movements.
Search results do not give suggested grade levels for any of the materials, including classroom activities, so be prepared to do some thinking about what might be best for your classroom's collective interests and ability levels.