At a Glance
Description
How was the community support for and operation of Southern African American theaters?
Producer
Digital Library of Georgia
The Blues, Black Vaudeville, and the Silver Screen, 1912-1930s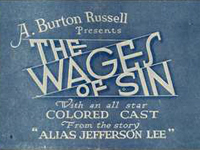 In the early 20th century, Macon, Georgia's Douglass Theater was one of Georgia's primary entertainment venues for blacks outside of Atlanta. Over the course of its more than 60-year history, the theater featured famous vaudeville acts, singers such as Ma Rainey and Bessie Smith, boxing matches, as well as both silent and talking films. This website features 100 documents from the files of the theater's owner, Charles Henry Douglass, a prominent black businessman in Macon. Letters, financial statements, contracts, theater newsletters, and advertisements shed light not only on events and business transactions at the Douglass Theater, but on the wider business community supporting African American theaters in the South. A good place to begin is the "Introduction to the Douglass Theater in Macon," a detailed background essay with links to a variety of documents from the collection, including account book pages detailing one week's profits in 1923, and a series of letters exchanged between the theater's temporary manager in the late 1920s and his brother documenting the challenges of the theater business. The materials are transcribed and annotated, and browseable by author, date, type, subject, and title.