Central Question: What was it like to be a slave in 19th-century America?
What Textbooks Say
Textbooks treat slavery as primarily an economic institution in which slaves were regarded by their owners as property yet insisted on their own humanity.
[...] »
What Historians Say
Historians are less inclined to ask what it was like to be a slave in the abstract than to draw from the historical record to ask what it was like to be a particular enslaved person, say Frederick Douglass or Sally Hemings, to name two of the most famous.
[...] »
What Sources Say
Taken in its entirety, the letter [from Rachel O'Connor to her sister Mary, January 11, 1836] reveals that hate and cruelty existed alongside love and affection in the slave South.
[...] »
Abstract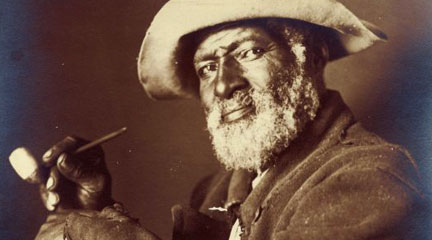 Two textbooks for high school students, Appleby et al's The American Vision (AV) and Boorstin et al's History of the United States (HUS) offer subtly contrasting answers to this important historical question, but both share a basic narrative voice, characteristic of textbooks, that limits their ability to highlight controversy, explore ambiguity and irony, or raise the problem of how we know what we think we know about slave life. This essay takes a close look at the textbooks' interpretations of the law of slavery, the relationship between masters and slaves, and their use of primary sources, including the Confessions of Nat Turner.
Read the full essay and explore the sources. »