At a Glance
Description
Explore a wide range of Californian geological survey maps, dating from 1895 to present.
Producer
University of California, Berkeley, Earth Science and Map Library
Historic Topographic Maps of California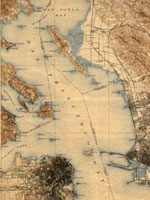 Provides historical United States Geological Survey maps of the San Francisco Bay area, from Point Reyes in the north to Half Moon Bay, and east to San Jose. Includes maps from different time periods—the earliest is from 1895, the latest 1997—covering each 7.5-minute and 15-minute quadrangle of the area. Users may zoom in to see minute details. Searchable by quadrangle or place name. Of value for those studying change over time in the development of the Bay Area during the 20th century.