At a Glance
Description
Why is Las Vegas one of the world's most popular destinations? How has it changed?
Producer
American Experience, PBS
Las Vegas: An Unconventional History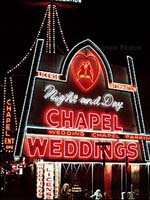 Produced as a companion to a PBS documentary, this site explores the history of Las Vegas through interviews, essays, and primary documents. "The Film and More" offers a film synopsis, a program transcript, and six primary documents on Las Vegas. These include a 1943 Time article on lenient divorce laws in Nevada as a tourist attraction and a newspaper report of an NAACP protest. "Special Features" offers seven presentations that include an interview with noted Las Vegas historian Hal Rothman, an exploration of the Federal government's public relations campaign on nuclear testing in the 1950s, and an essay on Las Vegas architecture. "People and Events" offers 14 essays on the people of Las Vegas and three essays on Las Vegas history.
An interactive map allows the visitor to survey the Las Vegas area and examine its development, and a timeline from 1829 to the present charts the growth of Las Vegas from a small railroad town to the present-day resort and gaming metropolis that is the most visited place in the world. A teachers' guide contains two suggested lessons each on history, economics, civics, and geography. The site also has 11 links to related websites and a bibliography of 55 books. The only search capability is a link to a search of all PBS sites.