At a Glance
Description
Introduce your students to political cartoons with Herbert Block's bold, visually inviting style. 32 cartoons cover the 1940s through the 1990s.
Producer
Library of Congress
Enduring Outrage: Editorial Cartoons by Herblock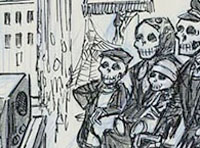 Political cartoonist Herbert Block's career spanned more than 70 years, over the course of which he produced more than 14,000 cartoons and won three Pulitzer Prizes in 1942, 1954, and 1979. He spent the majority of his career at the Washington Post, where he critiqued Democrats and Republicans alike, and covered topics from McCarthyism (a term he coined in a cartoon published in 1950) and the Nixon Administration to Chernobyl, the Vietnam War, and the Yugoslav Wars in the mid-1990s. This website presents 32 of his cartoons, relating to seven prominent themes in his work: the environment, ethics, extremism, voting, the Middle East, privacy and security, and war. Each cartoon is enlargeable and downloadable, and accompanied by a brief description of the context surrounding its creation and publication, as well as several sketches drawn by Herblock made in preparation for drawing the cartoon. Useful for those interested in U.S. political history and foreign relations, as well as the history of editorial cartoons.