At a Glance
Description
Influenza scares can be deadly—check out 16 documents and images from the 1918 flu epidemic.
Producer
National Archives and Records Administration
The Deadly Virus: The Influenza Epidemic of 1918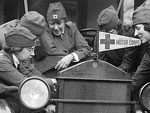 In 1918, an influenza epidemic swept around the world, killing an estimated 50 million people—34 million more than died in World War I—and attacking more than one-fifth of the world's population. No part of the United States was spared, as people in both urban and rural areas, from densely populated cities on the East Coast to those living in the Alaskan wilderness experienced the disease. This website offers 16 documents and images documenting this crisis. These sources reveal that many aspects of daily life in the United States were affected by the epidemic. Visitors can see, for example, a photograph of a mail carrier in New York City wearing a protective mask, telegrams from Arizona and Oklahoma describing the cancellation of public meetings and the symptoms of patients, and the personal letter of a nurse to her friend describing conditions at various military bases. Visitors can also order reproductions of these documents.