At a Glance
Description
Learn about the ethnically diverse history of Tucson, AZ.
Producer
Stuart Glogoff, University of Arizona Libraries; Louise Glogoff, Pima Community College Libraries
Through Our Parent's Eyes: Tucson's Diverse Community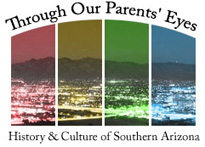 The ethnically diverse history of Tucson, Arizona is celebrated here in sections on the Hispanic, Native American, African American, Chinese, and Jewish heritage of the area. A 1000-word essay on the Hispanic history of Tucson is complemented by the four histories, from two to 100 pages, of local families. An exhibit of traditional arts in the Mexican American community includes photographs of houses, piñatas, and ten video clips of low-rider cars. Sources on Native Americans include 12 oral histories (300-600 words), about food and culture. The history of African Americans in the Tucson area from the 16th to the 19th century is recounted in an 1,800-word essay. A collection of 22 biographies (120-800 words) and summarized oral histories offer more personal details of African American life in Tucson. The collection of material about Chinese Americans in Tucson includes four biographies (600-1,200 words) and seven video clips of interviews with a Chinese American woman who grew up in Tucson in the 1940s. The journey made by one Jewish family from Russia in the 19th century to Tucson in the 20th is recounted in a 4,700-word illustrated essay. The site will be useful for research in ethnicity and the history of the west.