At a Glance
Description
Ask yourself: What did Coolidge do for our country?
Website
Producer
Calvin Coolidge Memorial Foundaton
Calvin Coolidge, 30th President of the United States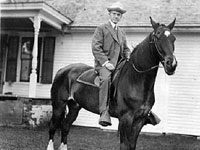 This website is dedicated to the 30th president of the United States, Calvin Coolidge, presenting material on his political ideas and his life through three main sections. "The Homestead" includes a 1,000-word introductory essay with six photographs. The richest section, on the history of Coolidge, includes a chronology of his life. An archive of speeches from his time as governor of Massachusetts to his time as President is also available. They consist of 28 early speeches, 20 during his tenure as governor, 11 from him as vice-president, and 31 presidential addresses. Twenty-one essays (800 to 1400 words) include "Coolidge the Victim?" by Hendrik Booraem V and "The Day Harding Died" by Frank Greene. Also available is a compilation of Coolidge quotes arranged alphabetically from "advancement" to "xenophobia." Visitors may access 20 papers presented at a 1998 conference on Coolidge and reprinted in The New England Journal of History. The papers average 1,000 words and include topics such as Coolidge's relationship with the Northampton Irish and his presidential legacy.
Under "Ask the President," visitors could ask Jim Cooke, an actor who has played Coolidge in a one-man play since 1985, questions about the President's life. Today, the archives remain available.