At a Glance
Description
This site is precisely what it promises. . . and more.
Website
Producer
Hosted by Auburn University
Encyclopedia of Alabama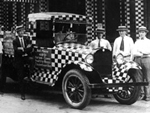 If you're looking for information on Alabama, you've found a good place to start. This website is a compilation of informative articles on the state of Alabama—current and historical information.
To access the articles, you can choose a category subset (agriculture, arts and literature, business and industry, education, folklife, geography and environment, government and politics, history, peoples, religion, science and technology, or sports and recreation), and browse. Another option is to select "indexes" from the main menu, and then choose another means of browsing (titles, authors, people, places, events, or organizations). As of the time of writing, the encyclopedia offers 1,400 entries, and new articles are added weekly.
Other sections worth exploring on the site include "features" which groups together articles on Alabama musicians and "galleries" where you can find image collections of John Kelly Fitzpatrick and Dale Kennington's paintings, photos by Erik Overbey and Mary Morgan Keipp, Magnolia Cemetery, the Ava Maria Grotto, folk pottery, barbecue, and far more.
Don't forget to explore the Beta version of the For Teacher's Section. Here, you will discover a wide variety of articles organized in accordance with Alabama teaching standards.