At a Glance
Description
View fantastic photography throughout the ages in over 15 exhibits.
Website
Producer
American Museum of Photography
American Museum of Photography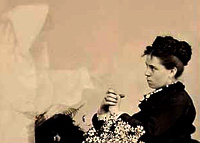 Photographs from 1839 to the late 20th century are on view in 12 exhibits that offer 100- to 600-word introductory essays and a diverse range of images.
"The Face of Slavery" presents 10 photographs of African Americans from 1855 to 1905.
The work of Southworth and Hawes, a photography team active between 1843 and 1862, is represented by eight daguerreotypes of women.
In "Do You Believe?" visitors may consider evidence of ghostly existence offered by 22 "spirit photographs" taken between 1875 and 1932.
In "Photography as a Fine Arf!," 16 photos from the 1850s to the 1950s "explore the complex relationships of people and dogs."
In "At Ease," nine photographs from around 1850 refute the popular notion that early portraiture was stiff.
An exhibit of the trick photography of William H. "Dad" Martin presents eight photos produced between 1894 and 1912 that show exaggerated ordinary objects.
In "Of Bricks and Light," the museum exhibits 33 architectural photographs.
Business executive and photographer Shotaro Shimomura took pictures of his trip around the world in 1934-35; nine of these are exhibited in "An Eye for the World."
An interactive exhibit of nine cartes de visite allows visitors to investigate details such as the hats worn by men in Abraham Lincoln's funeral procession.
"Scott Mutter: A More Perfect World" presents 11 "hyper-realistic" photomontages by the acclaimed image maker.
"Masterworks of Photography" includes 25 images produced from 1840 to 1975, including English inventor William Henry Fox Talbot's "The Footman," of 1840, considered the earliest photograph on paper of a human being.
In addition, the museum showcases 42 of its favorite pieces.
The site also provides a 1,700-word explanatory essay on photographic processes and links to 25 other resources concerning the history and art of photography. This site cannot be searched by subject, however, which limits its usefulness for research.