At a Glance
Description
View the mid-20th-century art scene through the photographs of music and dance critic Carl Vechten.
Producer
American Memory, Library of Congress
Creative Americans: Portraits by Carl Van Vechten, 1932-1964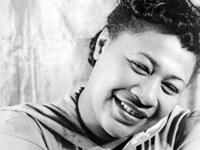 This collection presents 1,395 photographs by the American photographer, music and dance critic, and novelist Carl Van Vechten (1880-1964). The site consists primarily of studio portraits of celebrities, most of whom were involved in the arts, including actors, such as Marlon Brando and Paul Robeson; artists, such as Marc Chagall and Frida Kahlo; novelists, such as Theodore Dreiser and Willa Cather; singers, such as Ethel Waters and Billie Holiday; publishers, such as Alfred A. Knopf and Bennett Cerf; cultural critics, such as H. L. Mencken and Gilbert Seldes; and figures from the Harlem Renaissance, such as Langston Hughes, Countee Cullen, and Zora Neale Hurston.
More than 80 photographs capture Massachusetts and Maine landscapes and seascapes; others include eastern locations and New Mexico. Many photographs of actors present them in character roles. Searchable by keyword and arranged into subject and occupational indexes, this collection also includes a nine-title bibliography and background essay of 800 words on Van Vechten's life and work. A valuable collection for the documentation of the mid-20th-century art scene.