At a Glance
Description
Who exactly were the Black Panthers? Explore the history and memories of the Seattle chapter.
Producer
Seattle Civil Rights and Labor History Project
Seattle Black Panther Party History and Memory Project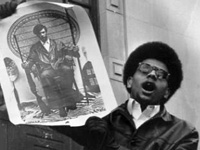 In 1968, the Black Panther Party for Self Defense established a chapter in Seattle, one of the first outside of California. This website, devoted to portraying the history and collecting the memories of that chapter, is "the most extensive online collection of materials" for any Black Panther Party chapter. It includes 13 oral histories and brief biographies of key Black Panther Party members, 53 photographs documenting Black Panther events in the late 1960s, more than 100 news stories covering Party activities from 1968 to 1981 (four years after the Party was dissolved), testimony and exhibits from the 1970 Congressional Hearings investigating the Party, and all five issues of the Seattle Black Panther Party "Bulletin." A "Slide Show" highlighting some of these materials is a good place to begin for those unfamiliar with Black Panther Party history.
This website is part of the larger Seattle Civil Rights and Labor History Project, which provides extensive materials that can serve as historical context, such as a guide to civil rights groups from the 1910s to the 1970s, 14 2,000-word essays on the ethnic press in Seattle, 13 other "Special Sections" on topics such as segregation in Seattle, and 37 in-depth essays on historical topics such as the Ku Klux Klan in the 1920s. In addition, a "For Teachers" section provides eight lesson plans using the website's material for middle and high school students.