At a Glance
Description
A comprehensive guide consisting of over 240 primary source items detailing African American history.
Producer
American Memory, Library of Congress
The African American Odyssey: A Quest for Full Citizenship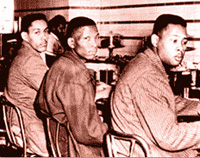 More than 240 items dealing with African-American history from collections of the Library of Congress, including books, government documents, manuscripts, maps, musical scores, plays, films, and recordings. The exhibition explores black America's quest for political, social, and economic equality from slavery through the mid-20th century. Organized into nine chronological periods covering the following topics: slavery; free blacks in the antebellum period; antislavery movements; the Civil War and African-American participation in the military; Reconstruction political struggles, black exodus from the South, and activism in the black church; the "Booker T. Washington era" of progress in the creation of educational and political institutions during a period of violent backlash; World War I and the postwar period, including the rise of the Harlem Renaissance; the Depression, New Deal, and World War II; and the Civil Rights era. Each section includes a 500-word overview and annotations of 100 words in length for each object displayed. In addition to documenting the struggle for freedom and civil rights, the exhibit includes celebratory material on contributions of artists, writers, performers, and sports figures. Valuable for students and teachers looking for a well-written and documented guide for exploring African-American history.