At a Glance
Description
How have boundaries changed over time? Compare the maps of yesteryear with those of today.
Producer
Department of Geography, University of Alabama
Alabama Maps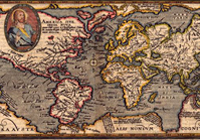 This site contains more than 3,500 scanned and digitized maps divided into two indexes—historical and contemporary. The historical maps index contains several sections. The most voluminous section, "Alabama," is divided into time periods, geological features, Alabama counties, rivers, and state highways. Another section indexes 13 other southeastern states, including Texas, the Carolinas, and Florida. There are also maps of the Western Hemisphere, North America, Mexico, and the Caribbean, some dating before 1700.
An especially valuable feature of the historical index is the "Special Topics" which contains maps of the Civil War, including the battles in Gettysburg and Antietam, railroad routes, and ten Native American maps, mostly illustrating the boundaries of Cherokee territories. The contemporary map index is divided into eighteen themes, including education, housing, politics, federal expenditures, climate, and recreation. There are more than 100 world maps of Africa, Asia, Europe, the Middle East, and the South Pacific. Users will also find links to the University of Alabama's Department of Geography and the publications of the Cartographic Laboratory. Created for educators and the business community, this is valuable resource for those researching the history of Alabama or contemporary themes in Alabama, the United States, and the world.