At a Glance
Description
Take a peek at Seattle protest history through the WTO Ministerial Week.
Website
Producer
University of Washington
WTO History Project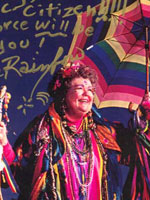 Designed to provide access now and in the future to documents created by groups that protested the World Trade Organization's "Ministerial Week," held in Seattle from November 29–December 3, 1999. Offers texts of more than 80 oral histories of organizers and participants, 73 photographs, and images of 224 fliers, posters, and leaflets. Also includes 46 planning documents, 18 signs carried by protesters, two audio files, three videos, and a timeline documenting 520 events from March to December 1999. A second timeline covers the week of protests and a table with contact information for more than 1,400 organizations that opposed the meetings. Documents in the collection can be searched by keyword, organizations, and issues—labor, environment, trade, democracy, direct action, food, agriculture, health, and independent media.
The site's creators state they are "dedicated to ensuring that any account ever written of the WTO protests be attentive to the range of people who turned out, the varieties of strategies and issues they brought to the streets and the meeting rooms, and the coalitions that emerged and failed." As a result, the site will be of great value to those studying social protest movements in the late 20th century.