At a Glance
Description
What questions have past censuses posed? What were the results?
Producer
Department of Commerce, Census Bureau
Selected Historical Decennial Census Population and Housing Counts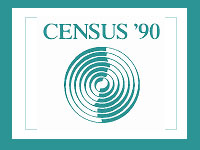 More than 40 historical census reports, including decennial reports dating back to 1790, are available for download on this website as PDFs. Historical statistics address topics such as population totals by race, urban or rural status, educational attainment, and means of transportation to work, among others.
There are also histories of the 21 U.S. census questionnaires produced from 1790 to 2000, including instructions to census marshals dating back to 1820. Comparative tables show which censuses included specific questions on subjects, such as ancestry and mental disabilities, and whether respondents were deaf, blind, insane, feeble-minded, paupers, literate, or convicts. Additional information includes state and territorial censuses, mortality schedules produced for a number of 19th-century censuses, population at the time of each census, and supplemental censuses taken at various times on free and slave inhabitants, Indian populations, unemployment, and housing.
Because of the PDF format, the reports take a number of minutes to download. These materials are useful for those needing demographic information or researching the history of census taking and the development of census categories.