At a Glance
Description
Learn about American culture at the turn of the 20th century.
Producer
Professor Michael O'Malley, George Mason University
Magic, Illusion, and Detection in Turn of the Century America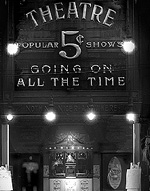 A syllabus and collection of documents for a course in American culture at the turn of the 20th century, exploring "two simultaneous tendencies in American life": fascination with "personal transformation—with self making, with economic mobility, and also the difference between the real and the fake"; and the emergence of detection "and the wide range of new techniques—like fingerprints, mug shots, and criminology generally—designed to pin down identity." Presents an array of primary material designed to examine these tendencies, organized in four excursions to an urban newsstand, a saloon, a theater, and a police station.
Includes the Horatio Alger novel Ragged Dick; 14 early motion pictures produced between 1897 and 1905; images depicting various "sciences" of detection used by urban police departments; photographs of saloons and crime scenes; an interview and audio file of pianist and composer Eubie Blake on ragtime music; an excerpt from the 1899 book Vitalogy, on achieving "vigorous manhood"; and posters from urban minstrel shows. Also gives a bibliography drawn from course readings.