At a Glance
Description
Relive the construction of the city of steel—Gary, Indiana.
Producer
Indiana University Northwest, Calumet Regional Archives
U.S. Steel Gary Works Photograph Collection, 1906-1971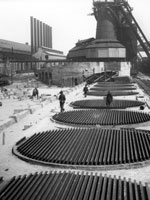 This site presents more than 2,200 digital images of the Gary Works Steel Mill and the corporate town of Gary, IN. The "tour" includes 36 photographs with interpretive text documenting the creation of the steel mill and city life in Gary. The main body of the site contains thousands of digital images and users can search by keyword or browse by subject and date for various aspects of this planned industrial community. The subject headings include the steel mill and its workers; factories and furnaces; houses and office buildings; women, children, and welfare facilities; and work accidents. The "Contextual Materials" section is a good starting place for historians and researchers interested in the Industrial Revolution. It includes an approximately 2,200-word introductory essay, "The Magic City of Steel," by Steve McShane; four magazine articles dating from 1907 to 1913; six book excerpts, including the 1911 work by John Fitch, The Steel Workers; 14 pages from Raymond Mohl and Neil Betten's Steel City: Urban and Ethnic Patterns in Gary, Indiana, 1906-1950 and the Carl Sandburg poem, "The Mayor of Gary."
This section is rounded out by a nearly 80-item bibliography and links to additional information about Gary, steel making, and 30 archival collections. There is also a "Teacher's Guide" with ten primary and secondary school lesson plans and other online activities. A great site that is easily navigable for researchers, teachers, and students.